| | |
| --- | --- |
| The Roger Nichols Recording Method Officially RELEASED | |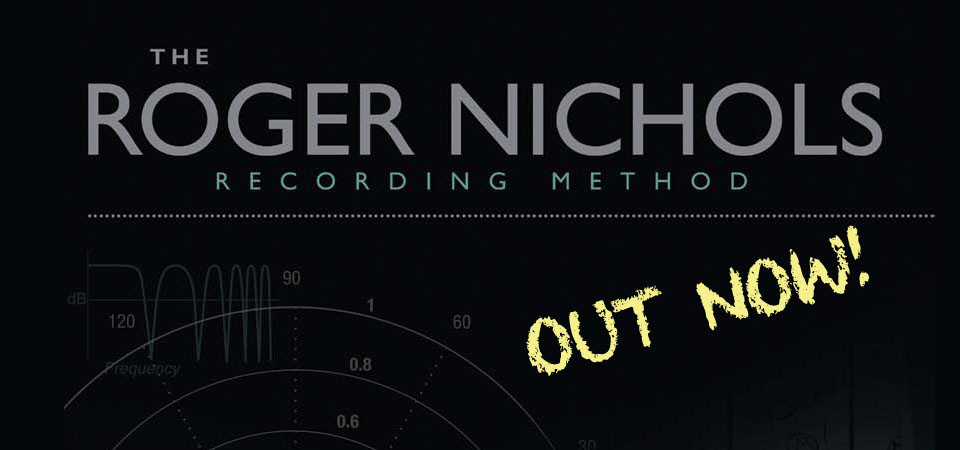 The Book
We are thrilled to announce the release of The Roger Nichols Recording Method–published directly from Roger's wide array of educational writings from the many classes and seminars he taught around the world, beginning with his "101" approach to audio production.
Connie Nichols, speaking on behalf of the Nichols family says, "I am especially grateful to Ron Manus, Mike Lawson and the entire Alfred Publishing team for ensuring that a new generation will benefit from Roger's artistry and inventive brilliance in the recording studio by releasing The Roger Nichols Recording Method. Roger would also be thrilled about it, especially since Alfred CEO Ron Manus, was once his 2nd Engineer in the studio."
Description: Learn the Art & Science of Audio Recording. Through the eyes and ears of "The Immortal" Roger Nichols, master engineer, you will learn the basics of digital recording, each step of the signal path, and everything from microphone placement to Roger's personal strategy for mixing. Even seasoned engineers will find tricks and ideas in this book, complete with Pro Tools session files to give you hands-on training with sessions setup personally by Roger. The Roger Nichols Recording Method gives you the experience of learning directly from Roger, exactly as he would have taught you at one of his famous Master Classes. It's like having an eight-time Grammy-winning engineer sitting down with you in your studio and teaching you through his personal experiences and hands-on techniques. This book is excellent for beginners, but still full of gems for seasoned pros that want to know how Roger Nichols always managed to get that sound.
All the best,
The Nichols Family
Connie, Cimcie and Ashlee Nichols

Strive for perfection in everything you do and you will never have any regrets.
Copyright © 2013 www.RogerNichols.com, All rights reserved.

We would love to keep you updated on all things related to Roger Nichols and his legacy. You are receiving this email because you have met Roger or his family. To be removed please respond to this with "unsubscribe".