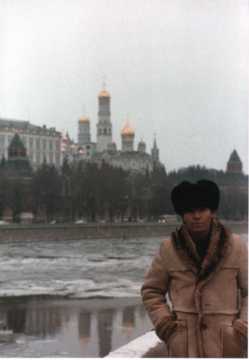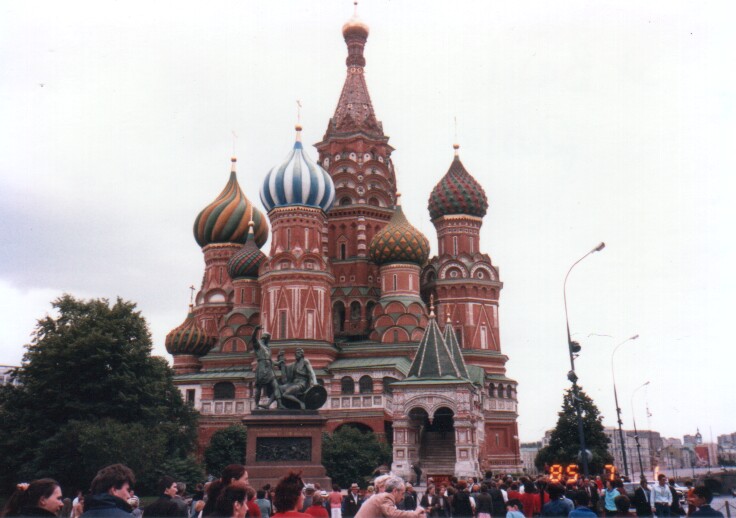 John in Moscow November 1984 & July 1985
John Denver was born December 31, 1943 in Roswell New Mexico. He died October
12, 1997 in a plane crash near Monterey California.
I met John in 1979 and have been engineering and producing his albums since
1980. When we weren't in the studio working, we would go fishing or hiking
or skiing in the Rockies. I certified John as a SCUBA diver so we could go
diving with Cousteau. Connie and I traveled to Australia to dive with John
on the Great Barrier Reef. John let me fly right seat in his Lear Jet and
perform some aerobatics in his Christian Eagle bi-plane. We stood on the Great
Wall of China and contemplated our place in the Universe. John was the ultimate
Gear Slut. He had me beat by a mile. One time John came through New York when
I was working on a Steely Dan project. He called me at the studio and asked
if Donald Fagen and I wanted to go on a sunset helicopter cruise around Manhattan.
John called me two days before the crash to check on his latest project.
Connie was recording vocals on his new single. He asked me if I wanted to
meet him in Santa Maria to pick up the new plane I helped him choose. I had
to go to Nashville and was going to meet him in Monterey on Sunday. I heard
about the crash on my way to the airport.
John cared about people and the environment. He often got bashed by the press.
Every summer he would pay to bring underprivileged children to an Aspen Summer
camp. When gas prices skyrocketed, he bought an underground gas tank and filled
it up for the busses. Public opinion made him take it out because everyone
believed he was using it to fuel his Porsche. With the increase in fuel prices,
summer camp attendance had to be cut back.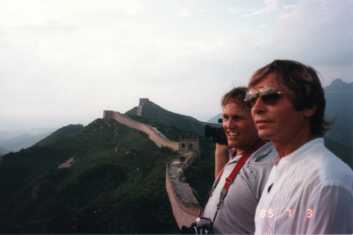 John and Roger on The Great Wall June 1985
Remember the Billy Joel concert in The Soviet Union? John made that possible.
For over ten years, there was no cultural agreement between the United States
and Soviet Union. After two years of negotiation, the Soviet government allowed
John to go to Moscow, Leningrad and Tallinn in 1984 to perform for small audiences
of government officials. They were impressed. The audience couldn't speak
English, but they sure were singing John Denver songs. The road was cleared
for the following year: the first public concerts by an American in over ten
years. The cultural agreement was signed and the record showed that it was
made possible by the efforts of John Denver. (Update: Live in the U.S.S.R was released in 2007)
John's songs may have been three chord wonders, but he played the hell
out of them. He was an excellent guitar player and singer. He performed thousands
of sold out concerts over the years with just him and his guitar. He is the
only guy I know who could do vocals on 30 songs in two days in the studio,
all of them in one take.
John supported Windstar, The Hunger Project, UNICEF, Plant-It 2000 and many
other organizations that helped to improve the quality of life for us all.
Most of all, John supported his friends and his family. Connie and I will
miss him as a friend, as part of our family, but most of all, we will miss
him as a great human being.
Roger Nichols 1997