Roger Nichols
Roger Nichols entered his fourth decade as the unimpeachable expert in the field of digital audio, having earned the reputation of Recording Engineer/Producer extraordinaire.
With 8 Grammy wins, including Album of The Year, a Technical Grammy Award, 11 Grammy nominations, a 2001 TEC Award, 2007 & 2008 TEC Award Nominations, 2007 Latin Grammy Nomination, and a discography that reads like Who's Who of the Entertainment Industry, Roger fills in his few idle moments on the Board of Governors for the Miami Chapter of NARAS, lecturing master classes at Berklee School of Music, Musicians Institute, Recording Workshop, Full Sail, Vancouver Film School, and University of Miami. A sought after guest speaker, Nichols travels around the world giving talks on digital audio and recording techniques at seminars in Hong Kong, Buenos Aires, Caracas, Mexico City, Singapore, Sweden, Canada, and various AES and NARAS functions in the U.S..
From a technical background from in Nuclear Engineering, Nichols initially worked as a nuclear engineer at the San Onofre Nuclear Generating Station in Southern California. Ironically the initials for the plant are SONGS.  His scientific interest has spawned development on three patents (pending) for equipment, dealing with the tape restoration process and a completely new kind of microphone.
Involved in digital audio since 1977, Nichols designed and built WENDELjr, a high fidelity digital audio percussion replacement device to use on album projects. A commercial version, built in 1985, is used by many major artists including Pink Floyd, Heart, and Paul Simon. Live sound companies like Clair Bros. still use Wendeljr in the production of their live shows.
In 1981 after completing Donald Fagen's Nightfly album, Roger went to each of Warner Bros. cassette plants with a copy of the digital masters. The bin-loop masters were produced directly from the digital tapes saving four generations of analog copying in the process. Nichols' prototype hard disc based bin-loop machine lead to the digital duplication now used for cassette production.
Nichols' science expertise resulted in consulting on Digital Audio for the Library of Congress' new Culpepper Archiving Facility.  Starting in 1985, he archived and restored digital/analog tapes for "The Big Chill" soundtrack (Motown), all Steely Dan original master tapes, the entire Roy Orbison catalog, early Blue Thumb catalog tapes for re-release, the JVC Jazz catalog and many more. Roger is currently working on two new methods of recovering analog tape recordings which reverse the quality deterioration due to tape aging.
In 2005 Roger started RNDigital, a company that designs audio plug-ins for Digital Audio Workstations. The plug-ins are based upon software developed over the years for Steely Dan and other recording projects .
Nichols designed the recording curriculum for the Musicians Institute in Hollywood and wrote a regular column (over 15 years) and equipment reviews for EQ Magazine. He is currently working on various recording courses for future publication.
Roger's technical background started early. In the fourth grade his father, an Air Force pilot, started teaching Roger how to navigate by the stars with a sextant. By the seventh grade Roger built his own 6" reflecting telescope by hand grinding his own mirror, and was first to report the Mrkos comet. In high school, he designed and built his own stereo and started recording neighborhood friends like Frank Zappa.
Roger has also earned a pilot's license, ham radio license, and certifications as First Aid instructor, CPR instructor, and SCUBA instructor. After racing cars in the '60s, Roger decided it was safer to photograph auto races, which he did for major magazines for over 15 years during breaks between recording sessions. The first Steely Dan album was postponed for two months because Roger had to photograph the 24 Hours of Le Mans and the Belgium Grand Prix in 1972.
Playing is just as important as working to Roger. Whether he is competing for an archery championship, or SCUBA diving with Cousteau, Roger's philosophy is simple; strive for perfection in everything you do and you will never have any regrets.
Whether producing John Denver (17 years), engineering for hit artists like Steely Dan (35 years), Frank Sinatra, Motorhead, Rosanne Cash, Bela Fleck, The Beach Boys, Placido Domingo etc., mixing movies (Love Potion Number 9, Rojo, The Movie) or planning his next trip to Mars, Nichols raises the bar of excellence for Engineers and Producers alike.
Roger's Wikipedia
In honor of Technical GRAMMY Award win – Roger Nichols Technical Achievements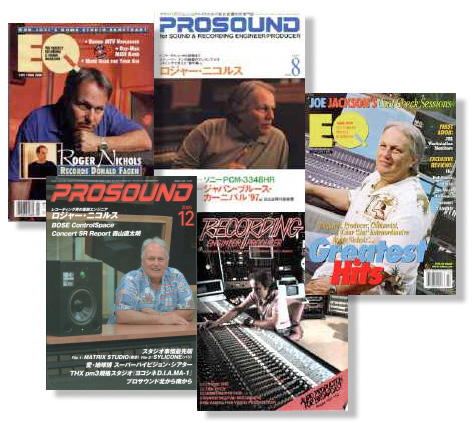 Additional Accomplishments
2007-2011                   Pro Tools "Expert Instructor" level 310 Certification
2005                             Formed RNDigital, Inc. Audio Plug-ins for DAWs
2004                             Author "Engineering 101" course for Promedia Training
2002-2011                  Pro Tools Certified Instructor for all Pro Tools Certifications
2001-2011                  Roger Nichols portrait above recording dept. All Guitar Center Pros
1999-2011                  Roger Nichols "Master Class" World-Wide recording seminars
1999-2011     NARAS Board of Governors, Florida Chapter, P&E Wing Advisory Board
1999                            Digital recordings in Havana, Cuba
1990                            First Vacuum system for restoration of analog tape deterioration
1989                            First plug-in for Sound Tools (vocal doubler) Walter Becker album
1986-1995                 World Wide Digital Audio Seminars
1984-1985                First Concerts by an American in U.S.S.R. John Denver Tour
1984-1985               First Digital recordings in U.S.S.R.
1980                          3M Certified Digital Audio Sub-System Technician
1979                           First Hard Disk Recording Device (Gaucho album)
1978                          First Sampling Drum Machine (Gaucho album "Hey 19")
1976-2011                Medic First Aid and CPR Instructor
1975-2011                SCUBA Instructor PADI, NAUI (2nd from left back row)
1974-2011                Ham Radio license KE4BDA
1972-2011                Private Pilot license
1972-1988              Formula One Auto racing photographer A.R.P.A member
1964-1969             Nuclear Engineer San Onofre Nuclear Generating Station
1966                        B.S.N.E. Capitol Radio Engineering Institute
1962                        Appointment to Air Force Academy by Lyndon B. Johnson
1962                       Graduated Upland High School
1961                      Upland High adopts insect photograph series for science teaching aid.
1957                       Youngest Amateur Astronomer to discover a comet (Mrkos comet)
1957                       Hand built 6" reflecting telescope & hand ground mirror (L.A. Times)
1944                      Born 9-22-44, Oakland, California